About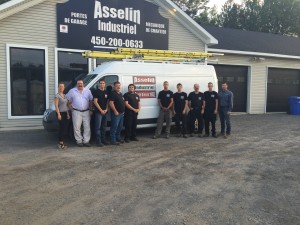 Team Asselin Industrial is a company with extensive experience working in this industry for three generations to serve our customers.
Our expertise in the world of industrial doors, commercial doors, residential doors, doors, dock lifts, loading and industrial machinery gateways demonstrates our diversity and expertise as a leader in these respective fields.
Industrial Asselin's priority is to provide a service based on the real needs of its customers by maintaining and improving facilities through preventive maintenance programs and suggestions for the equipment that we offer to suit your needs. Our dynamic and proactive team with over 64 years experience in various industrial fields aims to offer a quality service to listen and respond to customer needs. To ensure your complete satisfaction, we take the skills of our team on the cutting edge of technology for your need.
Asselin Industrial also has the desire to be in compliance with environmental protection and the rules relating are countries.
Partners